Sunshiners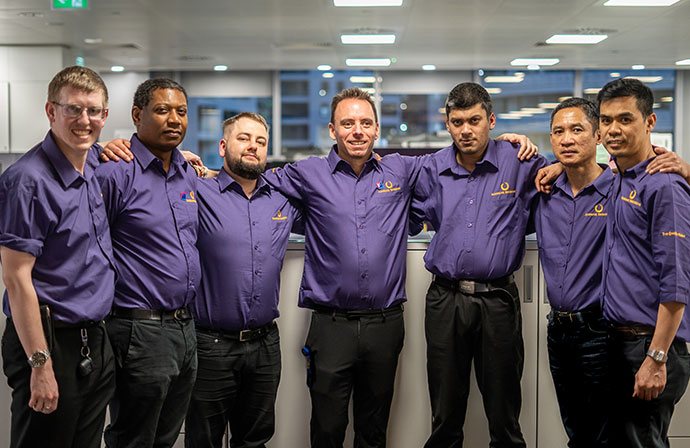 We are passionate about the power of a shoeshine and opportunity. It's ability to motivate, connect and redeem people.
None of this would be possible if it weren't for the support of our wonderful partners.
Here are some of our inspirational Sunshiner stories;
Adam Pope
Hello my name is Adam,
I have had learning difficulties my whole life.  I live in Wallington with my dad, brother my brother's wife.  I am 30 years old.  This is the first paid job I have ever had, although I have volunteered at the British Heart Foundation in Wallington for 8 years.
This job has changed my whole life and my dad says he is very proud of me.
I love making shoes shiny and am so happy that my life has taken me to work for Sunshine.
Hope to see you soon.
Adam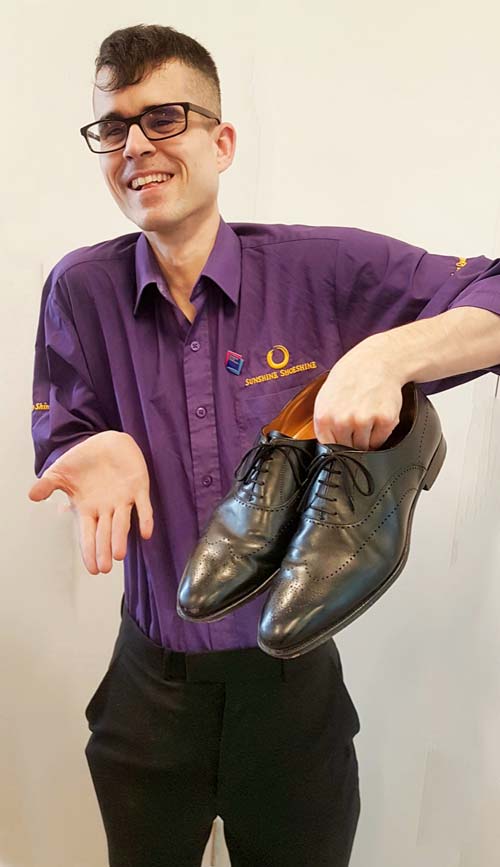 Alan Walton
I have been a Sunshiner now for 5 years and cannot imagine my life any different.
I was born with extreme myopia and was almost blind at birth and I went through many foster homes. At 18 I was studying music at college when I took a schizophrenic breakdown and ended up in a homeless hostel.
In 2006 I was released as I had recovered from my illness. However, life outside the hostel was incredibly difficult for me, I couldn't find any sort of job due to my background and was left in a cycle of unemployment and general misery.
I found Sunshine though Drew the founder who supported and helped me. Together we made a plan to save up my wages (and a loan) had an operation on my eyes to correct them, I now don't even need glasses!
Life today is utterly unrecognisable to what it was, I have a great flat, -1 eye sight and my illness well gone. I love seeing London, speaking with all the different customers and I've even been featured on the BBC! I never plan to leave Sunshine, ever!
Alan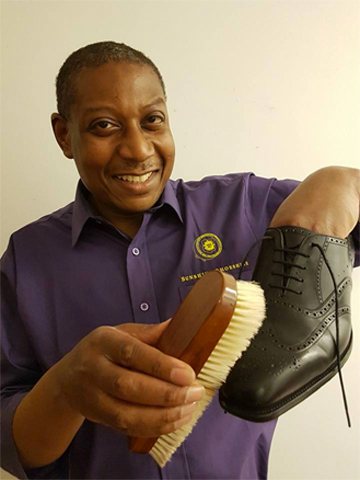 Bart Lesniowski
Czesc!
My name is Bartholomew but please call me Bart.
Despite my health problem in Poland I study to be forest ranger, but there are not so many forests in London! So I try to work as kitchen porter, this wasn't the best thing for my knee, any further damage to my knee will cause life long bonding to wheelchair.  The worsening meant I had to quit this position immediately and I find impossible to get job, as sitting still is also a problem for me.  Due to my disability I couldn't even find a job as simple as working in a supermarket.
This circumstance was most upsetting for me and after a desperate search for employment I am so happy to join Sunshine.
Thank you.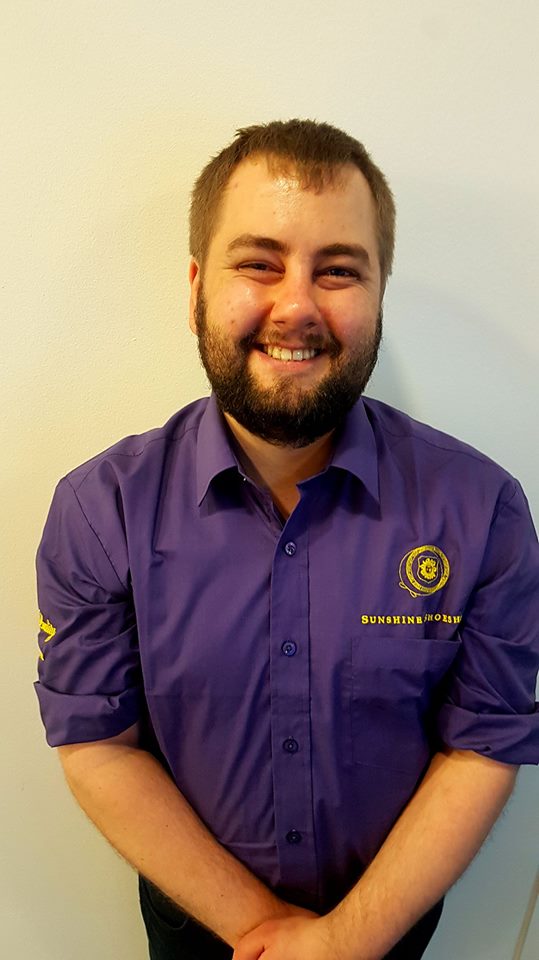 Roly Megallanes
I've been working in sunshine around 4 years.
What I like about my job is knowing and meeting different kinds of people in society. I always feel a great deal of pride when my customer appreciate my hard work. I also like the fact that the working hours are quite flexible.
My hopes in the future are that I can continue to be successful and happy.
Roly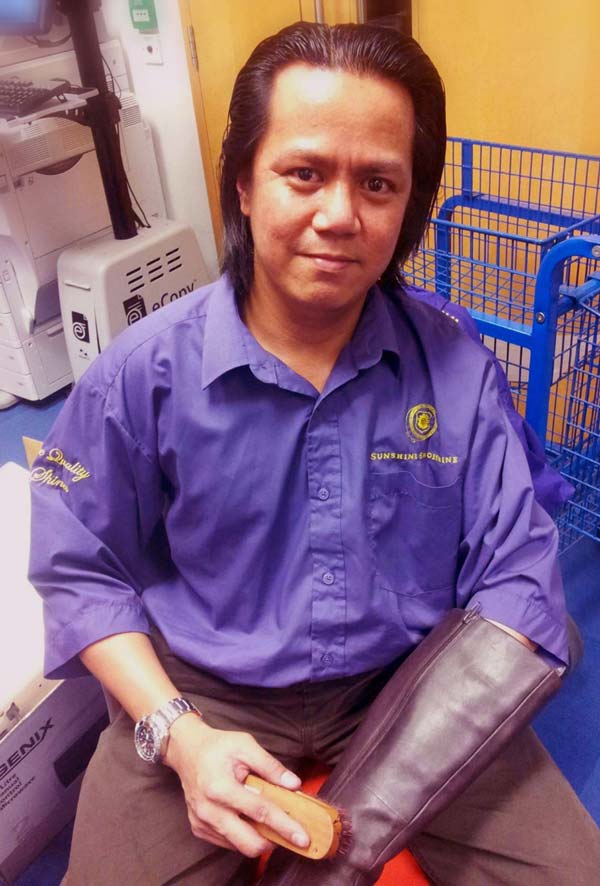 Robert Hunt
I have a learning disability which meant that until joining Sunshine I could not find any paid work. I volunteered in various settings including a café, a community shopping bus, retail, and the Scouts.
I've been working at Canary Wharf since September. Travelling independently from West London every day was a challenge at first but now I am proud to have overcome that.
I love wearing my smart uniform. I have built up a good customer base and I take great pride in what I do. If you come to see me, you'll be sure of a Sunshine smile!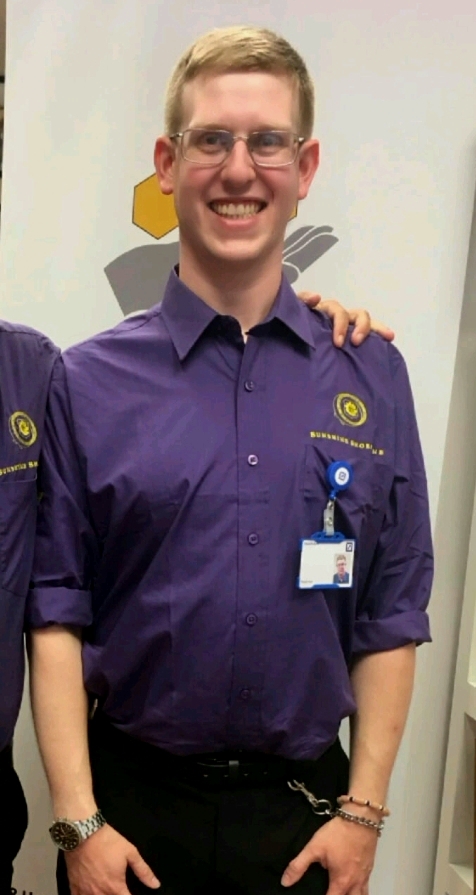 Shafiqur Rahman
My name is Shafiqur or Once a week Shofique!
A charity called 'Tower Projects' recommended me to Sunshine because I've never had a job in my life before other than doing a horrible job working on a farm for a month.  I have many difficulties, writing, (this is being dictated) speaking and maths, but practical stuff (like shoeshining : ) I can do easy.
I live with my parents on an estate in Westferry which is very good for me because I work a lot in Docklands and central London. I spend lot's of time on the DLR!
I love, love my job so much.  It's the best thing to ever happen to me. I think, I must be very lucky almost all of my friends can't get any job.
Thank you, I am blessed.
Shofique